EMOTIONAL STORYTELLING FOR INTENTIONAL COUPLES.
NEW ENGLAND WEDDING VIDEOGRAPHERS
We create story driven, heart-felt love stories, just as unique as the couples we work with. Our stories aren't your standard wedding films, but something a bit different. Something you can't quite put your finger on at times, but something we hope you feel when you watch our films.
ORGANIC. UNOBTRUSIVE. REAL MOMENTS.
"New England Creative somehow melted into the background, yet captured every important "big" moment and the small details."
LEARN MORE
REILLY & CHRIS
A PERSONAL & INTIMATE SMALL WEDDING ON THE CONNECTICUT SHORELINE
Reilly & Chris share vows alongside 12 of their closest friends & family on a stunning lakehouse in southwestern Connecticut, complete with an incredible surprise fireworks show.
NATALIE & VITALI
A DESTINATION ELOPEMENT IN WESTERN ICELAND
Natalie & Vitali eloped while trekking across the lava fields, volcanic cliffs and beautiful remote expanses of Western Iceland. Click to read more..
KATHRYN & MIKE
A STUNNING FALL FOLIAGE WEDDING IN THE VERMONT GREEN MOUNTAINS
Kathryn & Mike share emotional vows among the mid-October, peak foliage backdrop of the Vermont green mountains. Watch as they read hand written personal letters to each other just prior to walking down the aisle, and as Kathryn shares a tear-inducing moment with her father just be before he gives her away on her wedding day.
CASEY & KEVIN
AN EMOTIONAL BOHO WEDDING IN THE ROLLING HILLS OF CONNECTICUT
Casey & Kevin exchange emotional pre-ceremony letters and share an incredible, bohemiam styled wedding with their closest family & friends at the stunning Lion Rock Farm in Litchfield County Connecticut.
ELIZABETH & DYLAN
AN INTIMATE & STUNNING FARM WEDDING IN QUIET CONNECTICUT
Elizabeth & Dylan share some of the most powerful personal vows to each-other in front of their guests, and throw a meticulously styled reception in the quiet town of Sharon Connecticut.
We believe that creating wedding films isn't just a transactional service. We're creating history alongside our couples. It's something we're incredibly passionate, dedicated and inspired at doing in the most beautiful, timeless and personal way. We want to get to know you – the real you – with all of your hopes, dreams, strengths and weaknesses..
I'm having a hard time knowing where to begin this review because I want it to be just as perfect as the video NEC produced for my husband and me. There is just no way I could even get close. Their creative and cinematic approach to wedding videos is so incredibly beautiful. I am not the greatest at being in front of a camera without looking awkward or obvious yet somehow his direction and ability to capture the beauty of the raw and candid moments made us look like movie stars. NEC encompassed "us" entirely in our wedding video. If you are in search of a videographer, go with New England Creative. We HIGHLY recommend!
– RACHEL & JEFF
When we began planning our wedding we were told how important it was to hire a great videographer. After a lot of research we were lucky to hire NEC for our wedding day. We loved that they the made the essence of our wedding come through in the film they created. NEC's artistic and creative eye picked up on the little details that made our wedding unique and felt like a true reflection of our personalities. A few times during the night I told my spouse how happy I was having them there and how this had been the best money we spent during the planning. Thank you NEC! We will cherish our film forever!
– JESSICA & VINNY
If there's one thing to make sure you do during wedding planning is get a videographer! Your special day goes by so quickly and to be able to relive those special moments is so amazing. NEC is AMAZING! Our wedding film is the most perfect thing I could have imagined. Matt took the time to get to know us to learn just what we were looking for. I couldn't have asked for anything better. I 10000% recommend New England Creative!
– JEN & KYLE
I was so on the fence about videography while planning my wedding, and I have absolutely zero regrets that we worked with NEC for our special day. I fell in love with their work on their website and could tell how talented they were before even talking to them. We were able to see things we missed, see each other getting ready, and just relive every moment of the ceremony, speeches and first dance. The films were beyond expectations and brought us back to our day within the first few seconds of each. We would 110% recommend Matt and his team to capture your day - you will not be disappointed!!
– BECCA & JON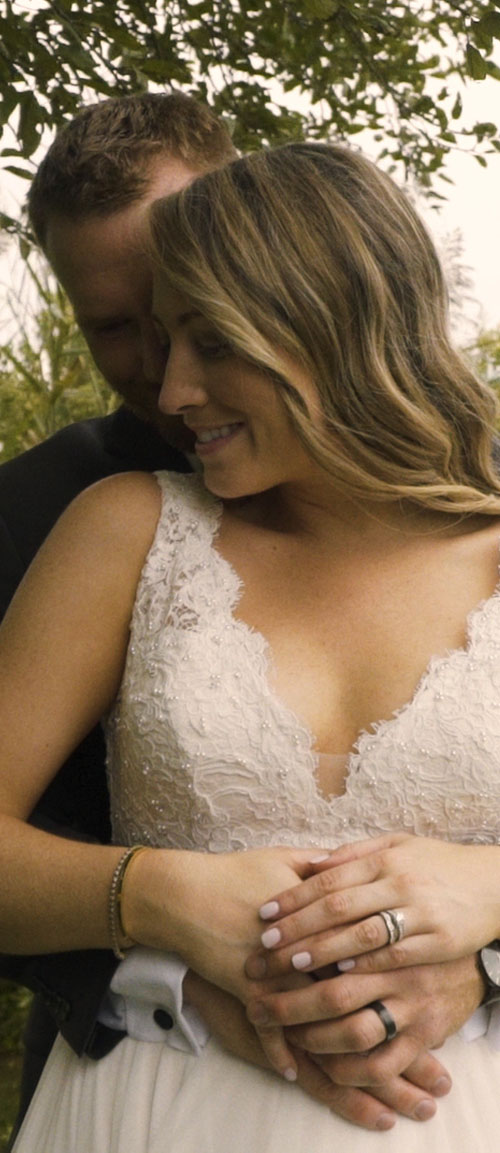 GET IN TOUCH
If our films inspire you, we'd love to connect with you about your upcoming event